They say it takes a village to raise a child, and here at Coventry Direct, we know that grandparents make up a substantial portion of that 'village'. From hosting holiday gatherings to being an unwavering source of love and support for your family, the relationship between a grandparent and their 'grandbabies' is one of life's greatest treasures.
With wonderful grandparents and grandchildren in mind, we decided to conduct a fun, grandparent-focused study. We surveyed over 5,000 Americans from across the country on what they call their grandparents to determine what the most popular nicknames for 'Grandma' and 'Grandpa' are across the country.
Interested to know what the top grandparent nicknames are in your neck of the woods? Read on!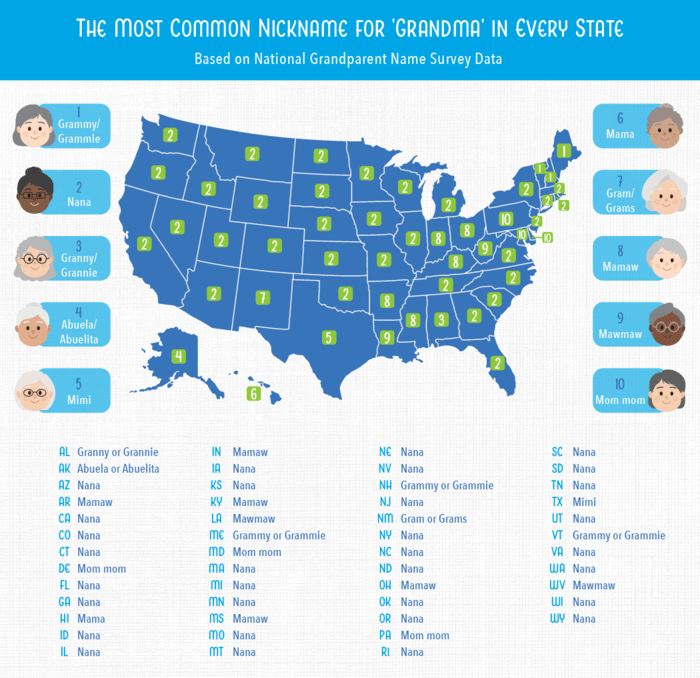 Most Common Grandma Nicknames
Let's start with the most used nicknames for Grandma.
Nana is the most common nickname for a Grandma in thirty-two states. But if someone doesn't call their grandmother Nana, odds are they do call her Grammy or Gram, as these are relatively popular alternatives to Grandma, as well. Folks from Maine, New Hampshire, and Vermont love referring to their Grandmothers as Grammy, whereas those from New Mexico prefer the more casual alternatives of Gram and Grams.
Many southerners in seven states, including Arkansas, Mississippi, Louisiana, and West Virginia, opt to call their grandmothers familiar names that you might expect. The most popular southern grandmother names are Mamaw, Mawmaw, Memaw, Nana, and Mimi.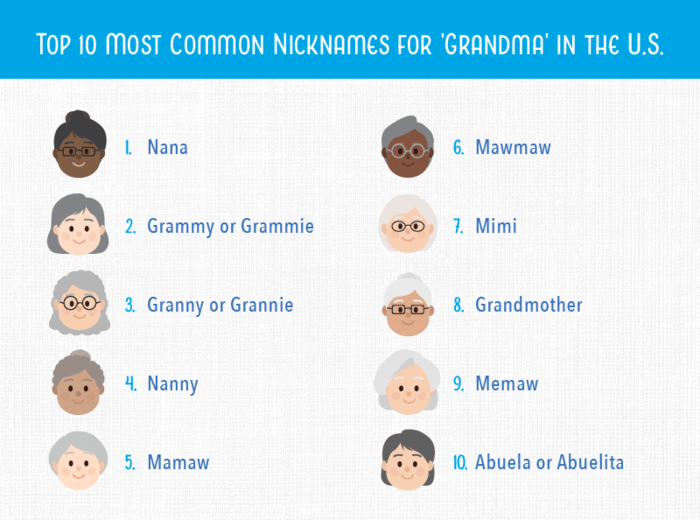 Curious about our national findings? While Nana took the top spot, Grammy, Granny, Nanny, Mamaw, Mawmaw, Mimi, Grandmother, Memaw, and Abuela/Abuelita rounded out the top ten list.
Most Common Grandpa Nicknames
Now, onto Grandpa!
Papa was the most popular nickname for grandfathers in 36 out of 50 states!. California, Colorado, Texas, Florida, and Georgia are among the states where Papa is the top nickname used for Grandpa.
Other than Papa, Papaw and Pawpaw – who we suspect are married to Mamaw and Mawmaw – are relatively popular grandparent names, too. Together, Papaw and Pawpaw are most popular in 8 states, most of which are in the South. Papaw is the most commonly used name for Grandpa in Alabama, West Virginia, Louisiana, and Mississippi. As for the slightly less Southern alternative to Papaw (Pawpaw), it's most popular in Arkansas, Indiana, Kentucky, and Tennessee.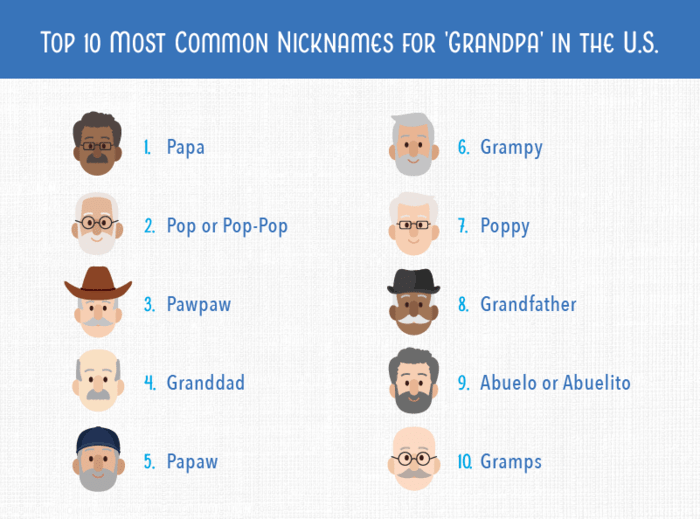 So what are the top ten nicknames for Grandpa in the country, you ask? It turns out that Papa, Pop/Pop-Pop, Pawpaw, Granddad, Papaw, Grampy, Poppy, Grandfather, Abeulo or Abuelito, and Gramps all made the list.
Summary
In conclusion, our national findings have found that these are the top ten nicknames for grandmas:
Nana
Grammy or Grammie
Granny or Grannie
Nanny
Mamaw
Mawmaw
Mimi
Grandmother
Memaw
Abuela or Abuelita
And these are the top ten most popular nicknames for grandpas:
Papa
Pop or Pop-pop
Pawpaw
Granddad
Papaw
Grampy
Poppy
Grandfather
Abuelo or Abuelito
Gramps
Now that you have the scoop on grandparent names, why not let your friends join in the fun? Use the buttons below to share this post on Facebook or Twitter.