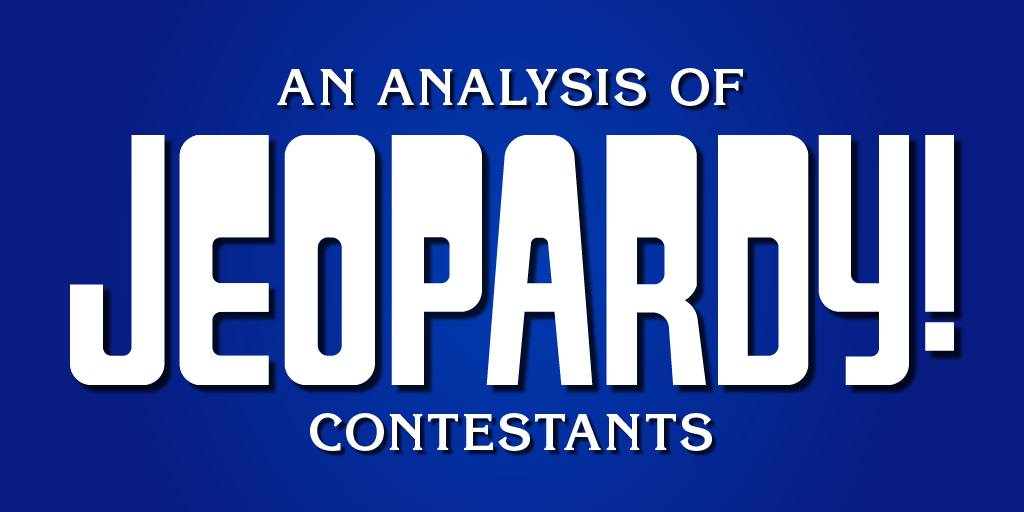 Jeopardy!, the legendary TV game show where clues are displayed as answers and contestants must answer in the form of questions, premiered nearly four decades ago on September 10, 1984. Since then, it's gone on to air more than 8,000 games across 37 seasons, win over countless fans, and earn its status as the cult classic that defined a generation.
Fast forward to the present, and Jeopardy! is still as relevant as ever, entertaining a multi-generation population through a global pandemic, stay at home orders, and a drought of indoor entertainment. Even as the pandemic wanes, the show continues to make waves and steal the hearts of Americans. Why?
The show's contestants—regular people like us—are a big part of what makes Jeopardy! so captivating. They're easy to relate to, cheer for, answer along with, and even imagine ourselves as. And each one is a vibrant individual with a story to tell. So, besides trivia, what can we learn from the hopefuls that tried their hand at becoming a champion of this iconic game show? We analyzed the entire pantheon of Jeopardy! contestants to find out.
What is Methodology?
Leaving no contestant unexamined, we combed through the whole series, recording contestants names, careers, hometowns, and average winnings over their full Jeopardy! careers. We then analyzed this database of information to tease out the insights you'll find below. Read on for more!
What is the Number of Jeopardy! Contestants by Country?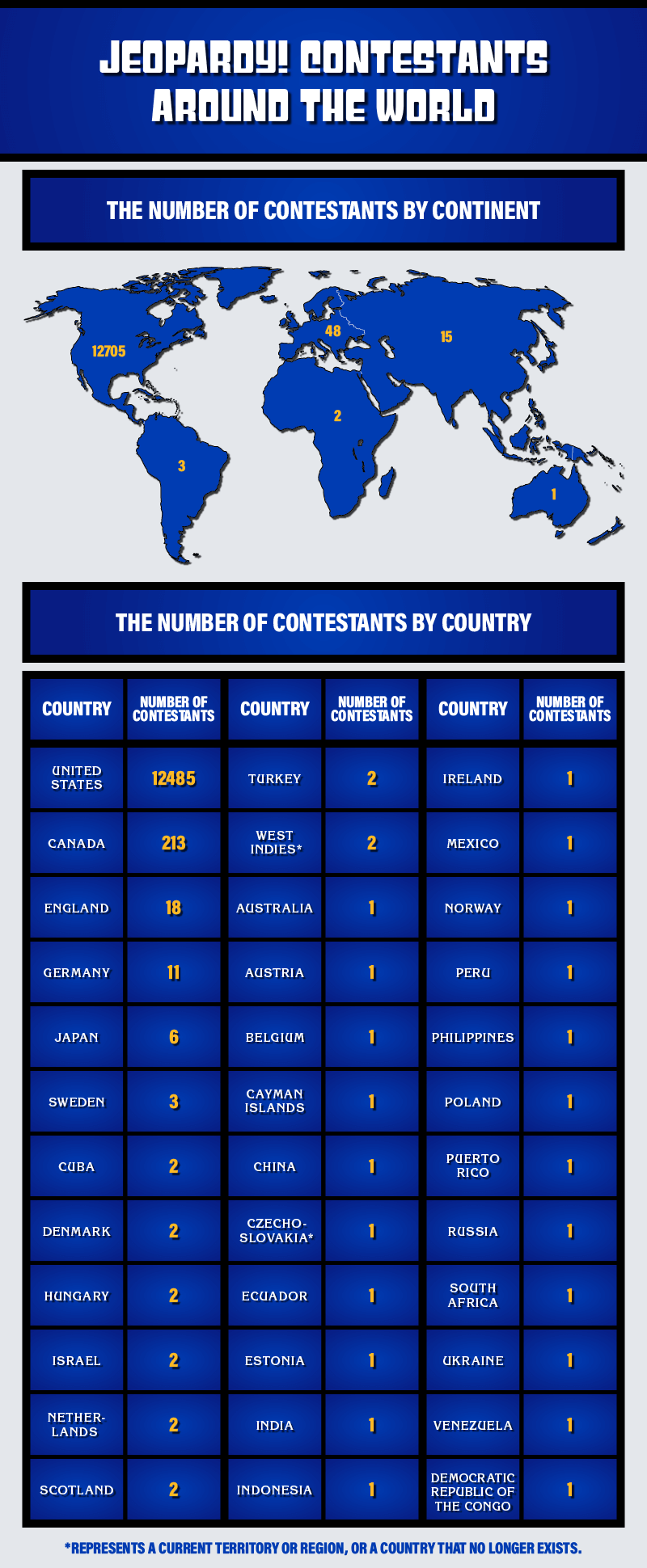 Jeopardy!'s influence is nothing short of global. More than 30 countries, regions, and territories have sent at least one contestant to do intellectual battle on the iconic blue and gold stage. Outside of the United States, Canada offered up 213 candidates, England, 18, and Germany 11.
However, given that Jeopardy! was taped at NBC Studios in New York City, we weren't surprised to find that nearly 98% of the show's contestants are Americans. Since the United States is a massive country, we zeroed in and looked into which states contributed the most and least contestants.
Which are the States with the Most Contestants?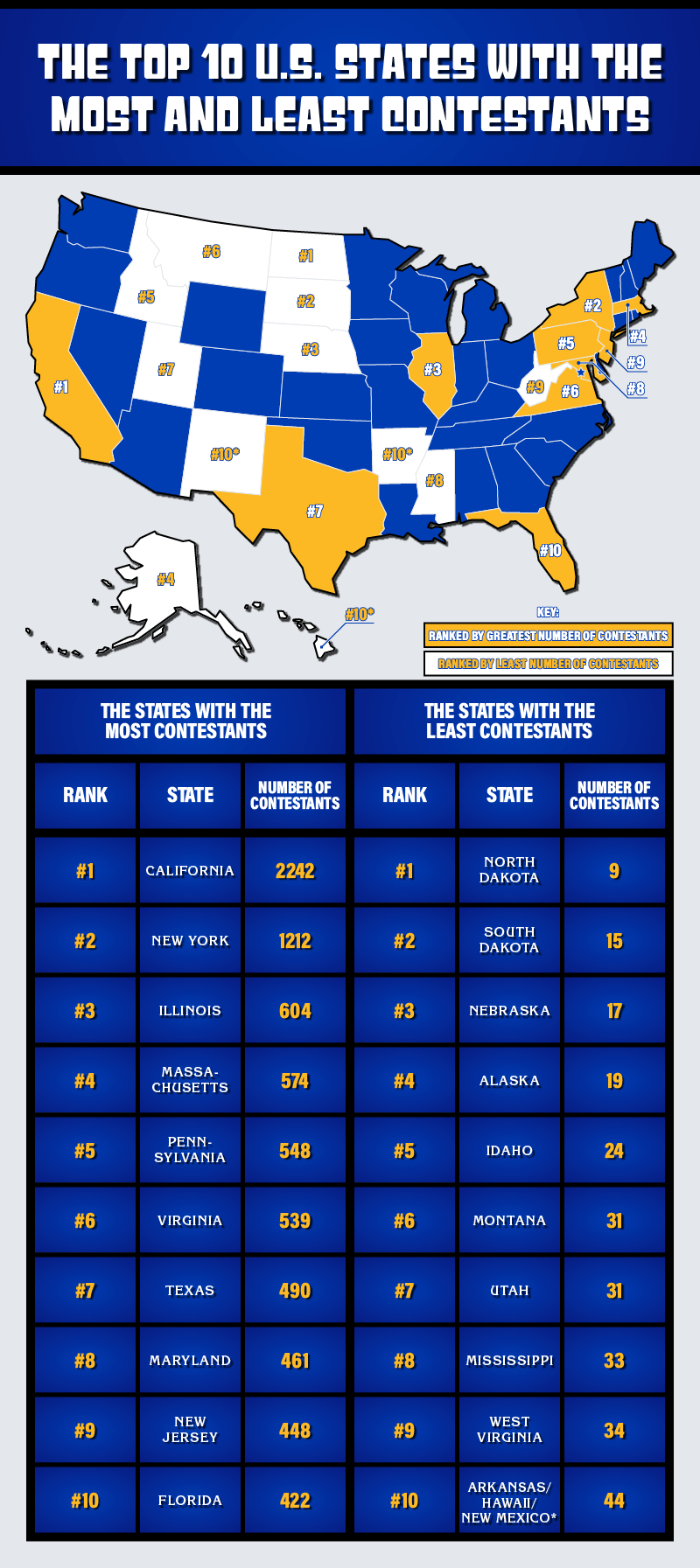 California and New York, two highly populous states, ranked at the top of the list, with 2,242 and 1,212 contestants calling these states home, respectively. And with 604 players hailing from Illinois, the Midwestern Prairie State must have some next-level pub trivia.
On the other end of the spectrum, the Dakotas and Nebraska managed to contribute the fewest number of players. But don't dismiss the Midwest as a one-hit wonder just yet. Given the rigorous Jeopardy! selection process—hopefuls must pass a test and be randomly selected for an audition just for the chance to be invited to compete—it's no small feat for a state to have a high number of contestants. But high numbers don't necessarily equate to high earnings.
Which are the States with the Highest and Lowest Earnings per Contestant?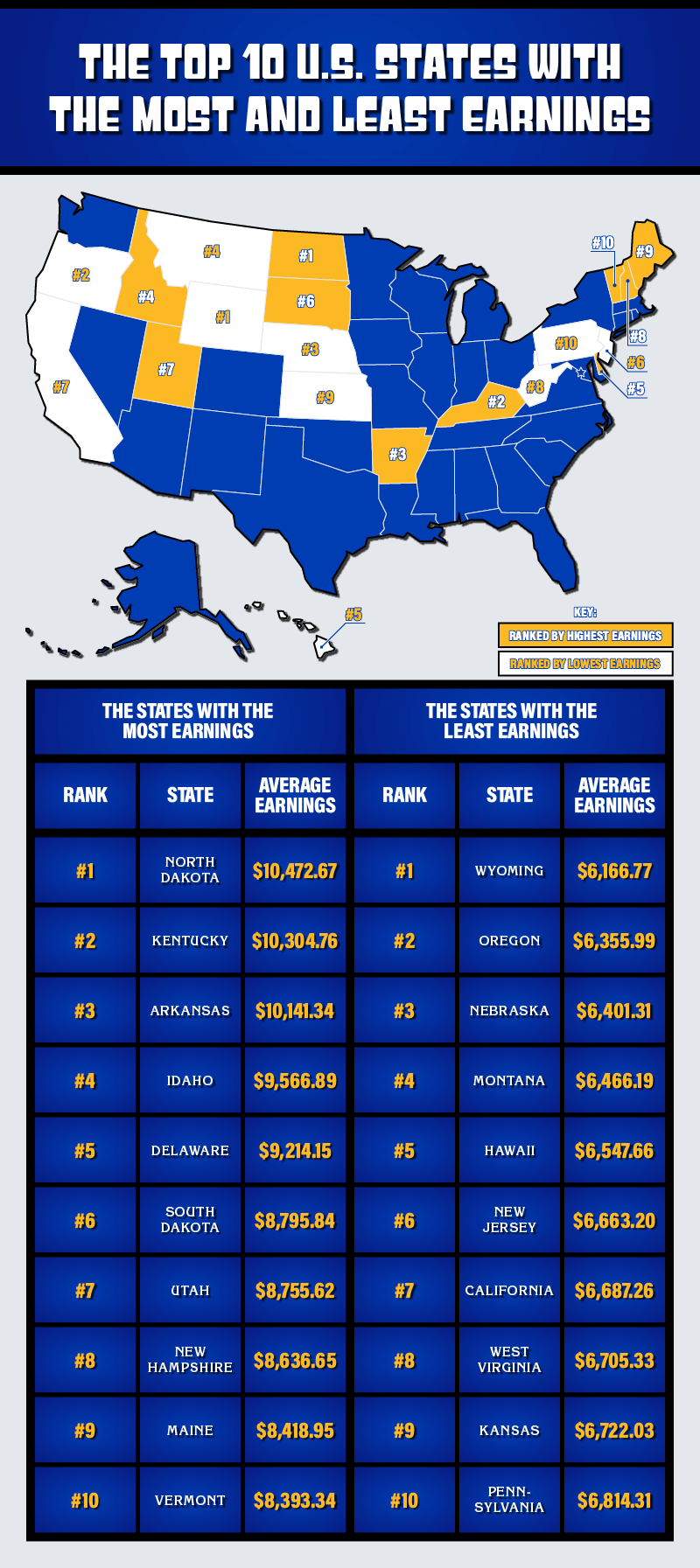 Despite sending the fewest contestants, the Dakotas take home some of the most prize money per player. North Dakota bested its Southern neighbor, with contestants raking in $10,472.67 on average—more than any other state. South Dakotans took sixth place overall with a still-considerable $8,795.84 in earnings per player.
The states that earned the least per contestant include Wyoming ($6,166.77), Oregon ($6,255.99), and Nebraska ($6,401.31). Interestingly, Californians, who frequented the show most often, were not big earners overall. They bagged just $6,687.26 on average, a purse larger than only six other states in the country.
But a person's home is only one part of the story. Their career can also say a lot about their Jeopardy! earning potential.
What are Careers of Jeopardy! Contestants?

Clue: The top three most common Jeopardy contestant careers.
Answer: What is student? What is teacher? What is attorney?
The student surpasses the teacher when it comes to the number of contestants that made it on Jeopardy!. And that's not all for brainiacs in academia. Graduate students, professors, and librarians also graced the show's lecterns in droves. Unsurprisingly, many of the most common careers involve research in a big way—whether a writer, editor, or an attorney, these professionals are constantly learning something new every day.
But perhaps it's who you know, not what you know, that equates to cold, hard cash. College advisors, hotel employees, and school counselors are taking home the most money. Other people-facing careers like restaurant managers and office assistants also turned up the heat and took home the gold.
And finally, we wanted to look into the names of Jeopardy! contestants.
What are Names of Jeopardy! Contestants?
We don't choose our own names, but if your parents gave you a good one, you might just be destined for Jeopardy! fame. The Johns of the world are most likely to get on the show with 168 of their namesake having been contestants so far. Michaels are close behind with 168 contestants to date. David, Chris, and Matt round out the top five names for contestants appearing on the show.
However, the top five contestant names are also in the top 15 names in America over the last 100 years. So, it's no surprise that more of them entered the Jeopardy! player pool on mere chance alone. The real question, as always, is who takes home the most bacon.
Interestingly, none of the most common names intersect with the highest earning names. Sorry John, Michael, and David—you'd have better luck as a Zach, Nate, or Carlos, who made an average of $12,997.58, $12,277.68, and $11,885.10, respectively. We were also happy to see three typically female names on the highest earners list, whereas only two made the list for the most common names.
What are Final Thoughts?
Jeopardy! is a beloved American game show that has brought friends and family together for generations. But you don't have to win Final Jeopardy in order to afford a cushy retirement. Coventry Direct is here to help you sell your unneeded life insurance policy so you can get back to more heartwarming moments with loved ones. Ask us how today!